Short Breaks in Scotland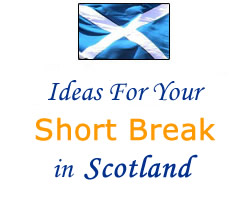 Scotland is a famously beautiful place. If you are planning a short break in Scotland this section is designed to inspire you, and provide some suggestions we think will give you a great weekend. We have provided information on each location and a link which will take you straight to details of hotels and guest houses in that area. Enjoy your short break in Scotland!
Edinburgh is the capital city of Scotland and has much to offer. A short break here could see you take in attractions such as Edinburgh Castle, the famous Royal Mile and Holyrood Palace, not forgetting the annual Edinburgh Festival of course!
read more about Edinburgh..

As the largest city in Scotland, Glasgow has built up a magnificent collection of attractions including the Gallery of Modern Art, Science Centre and a number of world renowned museums to cater for all interests.
read more about Glasgow..

The Scottish Borders encompass some of the best scenery to be found in Scotland. If you are looking for a peaceful break from every day life the small border towns found here are worth considering for your Scottish break.
read more about the Scottish Borders..

Dundee is situated 60 miles North of Edinburgh in the Angus region. As well as being a great hopping point for trips further North, it hosts an amazing attraction - The famous ship 'Discovery', which took Captain Scott to the South Pole in 1901 !
read more about Dundee..

Oban sits on the West coast of Scotland and is one of the most picturesque Scottish towns there is. Visit the Sea Life sanctuary and take a trip out to sea before returning to enjoy a meal at one of Oban's world class seafood restaurants..
read more about Oban..

Inverness is a small city located in the North of Scotland and is known as the Highland Capital. It is close to the northern end of Loch Ness and within minutes of the Culloden battlefield where in 1746, the last battle was fought on British soil.
read more about Inverness..