Short Breaks in Scotland »
Oban, Argyll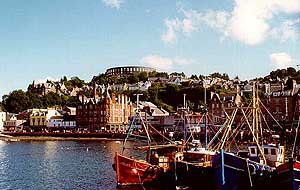 Take a short break in the beautiful resort town of Oban in Argyll, Scotland. There are a lot of attractions in the town itself to cram into your weekend, not to mention the many beautiful villages in the surrounding area. You could use Oban as a base to explore the wider area and perhaps visit some of the surrounding islands. Whatever you choose to do, Oban in Argyll is a wonderful destination for a weekend break or a longer holiday.

ABOUT OBAN IN ARGYLL
Oban was originally a small fishing village and although picturesque was a hard working little place. Then in 1880 a railway line was laid to the city of Glasgow and Oban quickly became popular with tourists and weekend visitors. Its easy to understand why when you stand on the waterfront and take in the amazing views. The landmark building in Oban is McCaig's Tower, a strange amphitheatre-style building which is actually a folly built in 1888. It dominates the skyline in Oban and adds to the unique attraction of this beautiful area.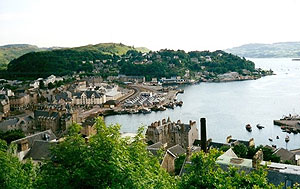 TRY THE INCREDIBLE SEAFOOD IN OBAN
If you love seafood you have come to the right place. Oban still has a fishing community and it is well known for some of the very best seafood Scotland has to offer. From fish of all sorts through to shellfish like mussels, oysters, crabs and prawns, seafood lovers will think they are in heaven. There is nothing quite like eating a meal that was caught from the waters of the west coast of Scotland
that very morning!

VISITOR ATTRACTIONS IN AND AROUND OBAN
There is so much to do around Oban it will be hard to decide which you want to do first! How about a boat trip seal-spotting, a visit to Oban distillery and visitor centre, explore McCaig's Folly before having a bite of lunch. In the afternoon perhaps you could visit the Oban war and peace museum before going to Oban art gallery, where you will find an incredible array of arts including inspiring landscapes and pottery. There is also a local sea-life centre and lots to keep the kids occupied, not to mention local castles and historical sites.

SEA TRIPS AND CHARTERS IN OBAN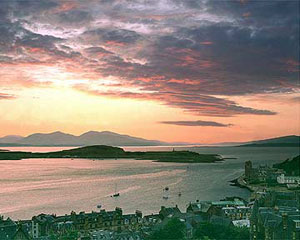 Oban is full of sea trip and charter opportunities, many of which are not to be missed! Wildlife cruises are a favourite with tourists and will deliver some unforgettable sights set against a backdrop of mountains and sea-lochs that you will never forget. For example, Mara Mhor Cruises runs right from the esplanade in Oban and offer a variety of trips depending how much time you wish to spend. From incredible sea life to amazing bird life, touch nature itself with a wonderful short trip around the waters of oban and the surrounding islands.

SHORT BREAKS IN SCOTLAND - OBAN HOTELS
We have a fabulous selection of hotels in Oban for you to chose from as well as surrounding villages such as Inverary, Helensburgh, Taynuilt and even on the island of Mull! Click the green button below to view our selection of hotels in Argyll. Oban and wider Argyll really is the perfect place for a short break in Scotland!