Short Breaks in Scotland »
Inverness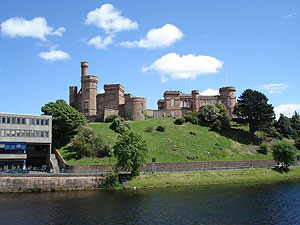 Plan a short break in Scotland to Inverness - the highland capital. Inverness has lots to see and do and makes for a great weekend away from your normal routine. Did you know Inverness is very easy to reach if you live in London? It's a one hour flight and cities connecting to Inverness include London, Bristol and Birmingham. Some airfares can be very low and its not unusual to pay around £50 for a return ticket from London, so although Inverness may seem far away to those who live in the south of the UK, it's a lot easier to reach than you think!

Here are some suggestions for your short break in Inverness:

Inverness - The Highland Capital
Inverness is a small city of around 90,000 people located in the heart of the Scottish highlands. Sitting on the banks of the river Ness, which flows out of Loch Ness, Inverness is a picturesque city that enjoys low crime rates, friendly people, quality shops, top-notch food and good public facilities. We have a large selection of hotels in Inverness, many located near the city centre with access to all the main areas. It should be said that the transport system is very good in the highlands and Inverness is easy to navigate and get around, even if your hotel is located outside the city itself. Remember Inverness is a small and compact city!

Culloden Battlefield
If your short break in Scotland includes a visit to Inverness then Culloden Battlefield is a must for anyone with an interest in history. The battle of Culloden was the last battle to be fought on British soil. It happened in 1746 after the attempts of Charles Edward Stuart to regain the throne of Britain for his family ended with his highland army facing a Hanovarian army twice it's own size on Culloden Moor. The result of the battle changed the highlands of Scotland forever and ended the dreams of his followers. There is a brand new visitor centre at the battlefield with guided tours, interactive shows and plenty to see and do.

Loch Ness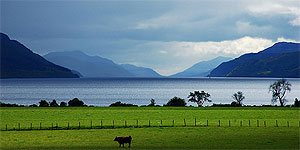 No visit to Inverness would be complete without a trip to nearby Loch Ness, home of the world famous monster. Known locally as "Nessie" the monster attracts hundreds of thousands of tourists every year. However Loch Ness is also one of the most beautiful views in Scotland and indeed the world. A very enjoyable afternoon can be had exploring the Loch Ness area and visiting the picturesque villages of Drumnadrochit, Fort Augustus and Foyers. Cruises on the loch for
would-be monster-spotters are available daily and provide fantastic views of both Loch Ness and the surrounding highland landscape.
Click here for more information on Loch Ness

The Caledonian Canal
The Caledonian Canal is a stroke of genius built by the incredible engineer Thomas Telford. Linking up Loch Ness, Loch Lochy and Loch Oich the Caledonian Canal enables ships to cut right through the Scottish highlands without the need for a lengthy detour around the top of Scotland. With Inverness at one end and Fort William at the other the canal is dotted with villages. Fort Augustus at the western end of Loch Ness is always a favourite spot with tourists who like to have lunch and admire the boats going through the locks of the canal.

Moray Firth Dolphins
The Moray Firth is a large sea inlet with Inverness at it's end and it is also home to dolphins. A great time with fantastic dolphin-spotting opportunities is available locally with short trips into the Moray Firth. Its a wonderful way to spend an afternoon and a big change from those used to the hustle and bustle of city life. Your short break in Scotland will be even more memorable with an experience like this!

Short Break In Scotland - Hotels In Inverness
Our selection of hotels in and around Inverness is second-to-none and the choice varies from small family-run guest houses to the better known chains of hotels. To find the hotel that best suits your requirements simply click the green button below.