Short Breaks in Scotland »
Edinburgh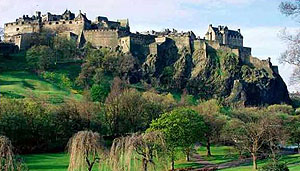 Take a short break in Scotland and visit Edinburgh for a weekend. The Scottish capital city is packed with entertainment venues, pubs, attractions, fine eating establishments and world class attractions. The city itself is an attraction with its stunning architecture and beautiful buildings. If you would like an ideal short break in Scotland try a wonderful weekend break in Edinburgh.

Things to do on your short break in Edinburgh may include:

Visit Edinburgh Castle
Edinburgh Castle is world famous and can be a whole afternoons activity in itself. Edinburgh Castle's esplanade is also the setting for the Military Tattoo - a sight well worth seeing. See our full section on Edinburgh Castle for more information.

Take A Walk Up Arthur's Seat
Arthur's Seat in Edinburgh is in the middle of Holyrood Park and an excellent vantage point to appreciate the city of Edinburgh, as well as a beautiful walk. The fine views are not to be missed and provide a wonderful photo opportunity.

Calton Hill
An equally beautiful view and a slightly different perspective is Calton Hill in Edinburgh, which includes the Robert Burns monument (an odd, Greek-like structure)

The City Arts Centre
No short break in Edinburgh would be complete without a visit to the City Arts Centre. Edinburgh is renowned for its artistic flair, festivals and folk and the City Arts Centre is a wonderful place to view some of Scotland's most treasured artwork dating from the 17th Century.

Edinburgh Dungeon
Fancy having the living daylights scared out of you? If doing something different on your short break in Scotland appeals then visit the Edinburgh Dungeon. Actors play out frightening scenes so don't bring kids that are too young. We also recommend you to visit this in a larger group of people as it makes the tour more fun.

National Museum Of Scotland
The National Museum Of Scotland has hundreds of exhibits within the walls of its state-of-the-art facility in Edinburgh's old town. The national Museum Of Scotland is one of Scotland's top attractions and a definite must-see on your short break in Edinburgh.

The above are just a few suggestions assuming you are staying a weekend in Edinburgh for your short break. We have a huge selection of quality hotels in Edinburgh to choose from. Simply click the green button below to view our selection of hotels in Edinburgh. We hope you enjoy your short break in Scotland!