Tourist Attractions In Scotland »
Edinburgh Castle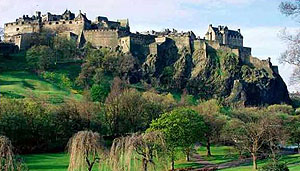 Any visitor to Edinburgh in Scotland will appreciate the formidable and timeless structure which dominates the skyline of the Scottish capital - Edinburgh Castle.

Castle Rock on which Edinburgh Castle stands has been inhabited for literally thousands of years. An excellent natural defensive position with unequalled views of the surrounding area meant Castle Rock was an obvious choice for living and surviving. Dating on the site has produced evidence from nearly 1000 years B.C. Although its the impressive 16-17 Century castle that is visible to the public today, its worth remembering just how long the site itself has been utilised by humans.

Edinburgh castle is visible from most parts of the city and is a "must-see" for any tourist visiting Scotland. Edinburgh Castle is run and managed by Historic Scotland which is a government agency in Scotland. Consisting of many buildings, the oldest of which is St Margaret's Chapel dating from the 12th Century, Edinburgh castle still houses a military garrison. Other buildings include david's tower, the half moon battery, the great hall, the crown room and the Queen Anne Building, amongst others. There is a lot to see in and around Edinburgh Castle and below we present individual attractions within Edinburgh Castle in more detail.

The Entrance To Edinburgh Castle
Many people will be familiar with the military tattoo that occurs at Edinburgh Castle in Scotland. The tattoo is held in the Esplanade - a large forecourt in front of the actual castle entrance. In front of the entrance is a drawbridge and ditch which date from the time in 1650 when Oliver Cromwell's troops occupied Edinburgh Castle. The gatehouse itself is non-functional and merely for show, with status of Robert the Bruce and William Wallace on either side of the entrance. It should be noted that although the gatehouse of Edinburgh Castle was built to please the eye, by entering one is walking into the realms of Scottish history itself.

Edinburgh Castle - David's Tower
In 1386 David, son of Scottish King Robert The Bruce, ordered the building of a huge ninety foot high tower. It was the original entrance to Edinburgh Castle and soon adapted with its rooms being used for different purposes. When Mary Queen Of Scots escaped from Loch Leven Castle and made her way to England some of her nobles remained loyal to her including Sir William Kirkcaldy who controlled Edinburgh Castle. Eventually large cannon were sent from the border town of Berwick by Queen Elizabeth I of England and the huge guns began pounding the castle in May 1573. After a few days of relentless cannon fire the tower David had built came down and Edinburgh Castle surrendered.

The Half Moon Battery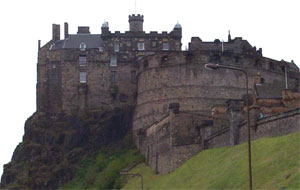 One of the buildings that is immediately visible from the Esplanade at Edinburgh Castle is the Half Moon Battery. It was built in the 1580's on the ruins of David's Tower as described above. Some of the rooms from david's Tower have been incorporated or covered up by the building of the Half Moon Battery defences. This is a much photographed part of the castle.

Edinburgh Castle - The Great Hall
The Great Hall at Edinburgh Castle was built in 1513 by James IV and is still completely intact. Originally used for gatherings of the Scottish Parliament, The Great Hall was eventually changed into military use by Oliver Cromwell's soldiers during their occupation of the castle and eventually it became a soldiers hospital. Nowadays it is a popular part of the castle with tourists and is sometimes used for special occasions and ceremonies.

The Crown Room in Edinburgh Castle
The Crown Room holds some truly precious items within its safe walls including The Honours of Scotland. These are the incredible Scottish crown jewels, which include the crown itself, a sceptre and a sword. However the most precious item in the room cannot be worn, for it is the Stone of Destiny. The stone was the original crowning stone of Scotland, upon which Scottish Kings would sit at Scone in Scotland. The stone was taken to England by Edward I (Longshanks) in 1296 and was placed under his coronation chair in Westminster Abbey so that all monarchs of England would be dominant over Scotland. The stone was finally returned to Scotland in 1996 to much joy and ceremony in Scotland. Some say that it is not the real stone, and the English king never had the real stone. Rumours and ancient speculation aside the Stone of Destiny is a major attraction at Edinburgh Castle.

The Royal Palace
Originally a Royal residence The Royal Palace was the birthplace of King James VI of Scotland who also became King James I of England. essentially this building was used as Royal accommodation by the Stewart monarchs in Scotland and has been redecorated and remodeled on at least two occasions, one of which was a visit by King James VI in 1617.

St Margaret's Chapel in Edinburgh Castle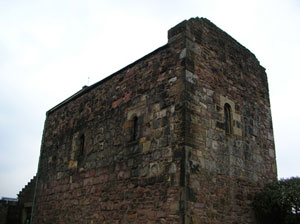 Although one of the smallest buildings in Edinburgh Castle, and certainly the oldest, St Margaret's Chapel is probably the most remembered of all by the thousands and thousands of people that visit Edinburgh Castle every year. St Margaret's Chapel is in fact the oldest building in the city of Edinburgh, dating from about 1120. It was built by King David I and just before the battle of Bannockburn the Scottish King Robert The Bruce ordered the castle destroyed in case the battle was lost. This was to prevent the castle falling into enemy hands. However he ordered the chapel to be left intact and so it stands today. It has a seating capacity of around 24 and is sometimes used for private weddings or private ceremonies.

Around Edinburgh Castle
"Tam The Gun" (Staff Sergeant Thomas Mackay MBE), visiting the military tattoo, inspecting Mons Meg - a huge six-ton cannon, visit the garrison fortress and much more.