Tourist Attractions In Scotland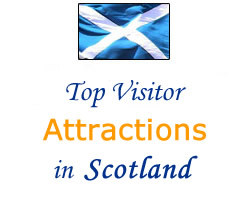 This section details some of the most popular tourist attractions in Scotland as searched for by visitors to the Hotels in Scotland website. If you are planning a holiday or short break in Scotland this is a great place to start, many of Scotland's attractions are known and admired all over the world.
Edinburgh's most famous attraction by far. Edinburgh Castle sits at the crest of The Royal Mile and dominates the historic part of Scotland's capital city. A visit to Edinburgh Castle can take several hours, the scale of the castle is very impressive.
read more about Edinburgh Castle..

Our very own monster 'Nessie' is famous all over the world, and whether you believe the legend or not, a visit to Loch Ness is more than worth the effort. The Loch is an astonishing 24 miles long and is surrounded on all sides by breath taking scenery.
read more about Loch Ness..

William Wallace was most famously brought back to life by Mel Gibson in the Hollywood movie 'Braveheart'. This monument near Stirling was built in the 1800's and pays homage to the real man.
read more about the Wallace Monument and Bannockburn..

Skye is one of Scotland's Islands, situated off the far North West of the country. No visit to Scotland would be complete without a trip to Skye, and now it is joined to the Scottish mainland by the Skye Bridge, there is no excuse not to say hello!
read more about The Isle of Skye..

Ben Nevis is not only the highest mountain in Scotland, it is also the highest peak in the whole of The United Kingdom. Climbers travel from across the World and often base themselves at nearby Fort William, which is an attraction in itself.
read more about Ben Nevis and Fort William..

Aviemore and the Cairngorm Mountains are central to skiing and snow boarding in Scotland during the winter, but equally as popular and beautiful in the summer. When the snow melts the area becomes a haven for hill walking and mountain biking.
read more about Aviemore and The Cairngorms..