Tourist Attractions In Scotland »
Ben Nevis
Ben Nevis & Fort William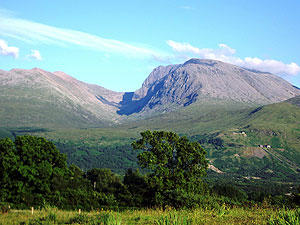 At 4406 feet Ben Nevis near Fort William in Scotland is the highest mountain in the United Kingdom. Hill walkers, climbers, ice-climbers and mountaineers from all over the world make their way to Ben Nevis every year for the challenging climbs, the spectacular views and the amazing setting in the western highlands of Scotland. If you are a munro-bagger, to use a modern term, then Ben Nevis is the jewel in the crown.

Great care should be taken when climbing all hills and mountains, including Ben Nevis. Scottish mountains can look very deceptive in appearance, especially for those used to the rock-faced steep peaks of the Alps or Rocky Mountains.

The mountains in Scotland look smaller and often close to the road. However they are usually further away and much higher than they look, as many a tourist stuck halfway up in the middle of the night has found out. The Scottish Mountain Rescue teams bring many lucky and some not-so-lucky hill walkers and climbers off the mountains in the highlands of Scotland every year.

If you plan a hill-climbing trip up Ben Nevis please take care and be environmentally aware on your journey.

Fort William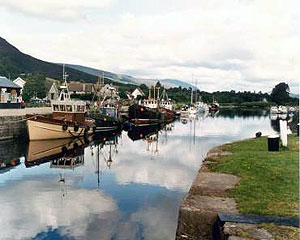 Fort William is a small town near Ben Nevis and on the shores of Loch Linnhe at the western end of the Great Glen and Caledonian Canal. There are plenty of fantastic attractions in the Fort William area including Inverlochy Castle, as visited and used by Robert The Bruce. Fort William is also a good base to explore the western highlands such as Mallaig and Morar, Glenfinnan, Glencoe and northern Argyll.

Our selection of hotels in Fort William is second to none and for a small town there is a surprisingly good choice. Its also very worthwhile considering the outlying areas as well as Fort william itself.

To search for hotels in the Fort William area, simply click the green button below. A selection of accommodation including hotels and guest houses in Fort William and the surrounding area will then be displayed. Your hotel in fort William will serve you well for any climb up Ben nevis or a sightseeing tour of the western highlands of Scotland.