Tourist Attractions In Scotland »
The Wallace Monument and Bannockburn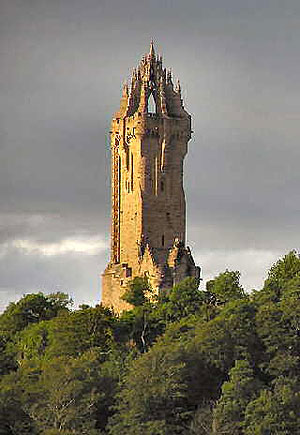 William Wallace
William wallace was a Scottish hero from the end of the 13th Century who defeated armies from England at Stirling Bridge and Falkirk before being betrayed and finally executed in 1305. The best known portrayal of William Wallace is by Mel Gibson in the movie "Braveheart". Although the movie uses plenty of artistic licence the character played really did exist.

Much of what we know about William Wallace comes from "Blind Harry", a poet and storyteller who lived in much later times some three hundred years on. The story of William Wallace and his exploits, incredible victories, journeys and unwavering loyalty to Scotland have been told throughout Scotland for hundreds of years, an incredible fact in itself.

The National Wallace Monument
During the Victorian period in Britain there was a huge resurgence in romantic stories, heros, Scottish patriotism and the portrayal of the Highland clans. Perhaps the best known Victorian person to spread these ideas was Sir Walter Scott. As the story of William Wallace gained new vigour throughout the country a fundraising campaign began and the National Wallace Monument was finally completed in 1869.

The walk up to the tower is a worthwhile journey for anyone staying in the Stirling area and apart from the great views the tower itself holds some secrets. One of those is The Wallace Sword, the sword of William wallace himself. Although the hilt and pommel were replaced in the 16th Century the blade is said to be the original.

Robert The Bruce and Bannockburn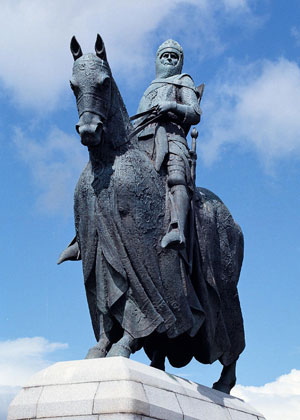 Robert The Bruce was a patriot king in Scotland during the 13th - 14th Century. His most famous victory was over an English army four times the size of his own at Bannockburn near Stirling in Scotland. At the time the Bannockburn area was boggy, marshy area and Robert The Bruce clevery used a combination of brilliant tactics, pure courage and use of the natural landscape to achieve his famous victory.

In fact the original "Braveheart" term was used in relation to Robert The Bruce, as after his death his heart was removed and placed into a silver casket and taken on crusades by loyal knights. Just a few years ago the heart was found in the grounds of Melrose abbey and after inspection with scientific instruments it was reburied in a private ceremony.

There's no doubt King Robert The Bruce was a couragous and clever man. The Battle of Bannockburn lasted two days and eventually led to Scotlands independence. A fantastic statue of Robert The Bruce is on the site of the battlefield.

Stay in Stirling Scotland
Why not stay in Stirling and visit the Wallace Monument and Bannockburn, as well as Stirling itself? We have a great selection of hotels in and around Stirling, so simply click the link below and view our great choice of hotels and other accommodation around Stirling in Scotland.