Luxury hotels in Scotland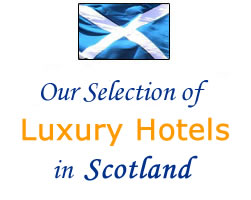 Enjoy a memorable stay at a luxury hotel in Scotland. We have selected a number of premier hotels from around Scotland to get you started, and to give you an idea of what to expect from top quality Scottish hotels. Why not treat a loved one and make memories that will last a lifetime by staying at a luxury Scottish hotel.

Cameron House is part of the De Vere Hotels chain and sits magnificently on the southern shores of Loch Lomond. The 18th century baronial mansion has a 17 treatment-room spa, rooftop pool and even it's very own 18-hole golf course!
read more about Cameron House..

This Scottish hotel dates back to 1740 and is located in the tranquil village of Drumnadrochit, just a stone's throw from Loch Ness. The Loch Ness Lodge is set amongst woodland and makes for a very peaceful and romantic break.
read more about The Loch Ness Lodge..

The Scotsman is one of Edinburgh's premier hotels, providing 5 star accommodation with a Spa and Gym. Located in the heart of the historic city it over looks Edinburgh Castle and is only a minute's walk from both The Royal Mile and Princes Street.
read more about The Scotsman Hotel..

St Andrews is known as 'The Home of Golf', and also happens to be one of Scotland's favourite getaway places for natives and foreign visitors alike. The Old Course Hotel gives you 5 star accommodation and a bar which stocks 200+ whiskies!
read more about The Old Course Hotel..

Aberdeen is Scotland's oil capital, and most of the worlds oil companies have offices, or indeed their headquarters there. The Copthorne Hotel is regarded by many to be Aberdeen's finest offering and is located in the heart of 'The Granite City'.
read more The Copthorne Hotel..

The Mar Hall Hotel is located only 6 miles from Glasgow airport, but in amazing countryside. As such it provides 5 star accommodation in a convenient but peaceful setting. Mar Hall includes luxuries such as the first Aveda concept Spa in the UK.
read more about The Mar Hall Hotel..
This is only a small selection of the many luxury Scottish hotels in our database.
We have over 900 hotels in Scotland available for booking and over 300 of them provide 4 and 5 star accommodation.
Browse all 4 and 5 star hotels