Luxury Hotels in Scotland »
Loch Ness Lodge near Inverness
Check availability for The Loch Ness Lodge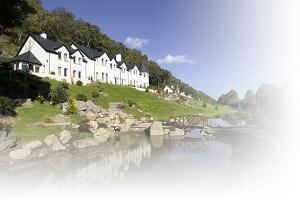 Why not try a beautiful break at one of Scotland's luxury hotels - the Loch Ness Lodge on the shores of..that's right - Loch Ness in the highlands of Scotland. This highland gem is of the highest quality and begs you to stay in it's beautiful surroundings. With easy connections to London, Manchester, Birmingham, Bristol and other places within the UK, Inverness is easier to reach than ever. Lets take a closer look at some of the facilities available at this luxury hotel in the highlands of Scotland.

Large enough to accommodate most needs and small enough to provide top quality individual attention, the Loch Ness Lodge boasts seven unique bedrooms, in-house spa and therapy treatments and some of the most spectacular scenery in Scotland. This luxury Scottish hotel also has it's very own helipad and provides second-to-none facilities for corporate events that require an inspiring setting.

From your luxury hotel on Loch Ness you are free to explore the highlands of Scotland. The central highland location makes it easy for guests to tour the region and take in some of the world's finest scenery. In addition there are local sports such as shooting and fishing available and the beautiful setting is often referred to by artists and photographers as a true luxury retreat. The cosy snug bar and decadent drawing room provide the perfect places to relax on your break.

We know you will not be disappointed with the service and amenities at the Loch Ness Lodge. Our customers love the feeling of top quality service combined with the outstanding views and often describe the Loch Ness lodge as their own personal highland getaway. The hotel even has a sauna room and spa to relax after a hard day's enjoyment. Experience highland hospitality at it's very best.

To find out more about the Loch Ness Lodge including photographs, room details and booking information, simply click on the green button below. Treat yourself or a loved one to a stay in the Loch Ness lodge in the Scottish highlands, a true luxury hotel in Scotland.