Featured Hotels in Scotland »
The Oban Bay Hotel & Spa
Check availability for The Oban Bay Hotel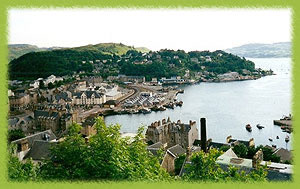 Indulge yourself with a relaxing break in an idyllic setting..

Oban is a small town on the West coast of Scotland, extremely popular with visitors due to it's beautiful setting and great location - it is often used as a base from which to explore the Highlands.

The Oban Bay Hotel & Spa sits on Oban's esplanade providing spectacular views across the bay to the Islands of Mull and Kerrera. You are free to enjoy this view in all weathers thanks to the Oban Bay's sun lounge which runs the entire length of the 80 room hotel. The sun lounge is also a great place to enjoy some Oban Bay cuisine from the Rannachan Restaurant, made ever more delicious by the use of locally sourced and organic ingredients wherever possible. The Atlantic bar at the Oban Bay Hotel serves Fyne ales on rotation.

The Spa at The Oban Bay is a treat not to be missed, offering Swedish, sports and aromatherapy massage as well as facial treatments and waxing. There is also a steam room, sauna and soothing outdoor hot tub with views to match.

All 80 rooms within the Oban Bay Hotel have private bathrooms, televisions, hair dryers and tea / coffee making facilities. Room sizes vary from cosy single rooms to spacious family and executive rooms. The Oban Bay is also available for wedding receptions, and their Rannachan restaurant can cater for up to 100 guests for such occasions.
So why not combine a memorable trip to Oban with some pampering at The Oban Bay Hotel..