Featured Hotels in Scotland »
The Carmelite Hotel, Aberdeen
Check availability for The Carmelite Hotel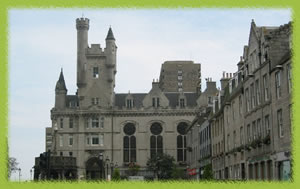 Castlegate, Aberdeen © Lizzie :
Licence
The Carmelite is a boutique hotel located in the centre of Aberdeen, Scotland's silvery 'Granite City' on the North East coast. The hotel is situated perfectly for rail, bus and ferry connections and access to Aberdeen's main shopping district.

Awarded a gold medal in 2007 by Hotel Review Scotland for it's bedroom design, the hotel oozes style from each of it's 11 designed suites. The Carmelite offers 49 rooms in total and each is en-suite, and has Sky TV and internet access.

You can indulge yourself, or your partner with in-house massage treatments and romantic packages including treats such as scattered roses, pre-iced champagne and breakfast in bed.

The Carmelite bar & grill offers great quality food early till late, sourced locally and lovingly prepared by Head Chef Kenny Smart. Live music is on tap every Friday and Saturday night to enjoy along with a cocktail or two and free wi-fi is available in the bar at all times.
For business travellers the Carmelite also has meeting and banquet facilities capable of seating 120 people and a board room catering for 20.